Welcome To Emma J Sport Fishing Charters!
Lake Huron Charter fishing from Cheboygan to Mackinaw City Michigan, and Presque Isle's Hammond Bay Charter fishing trips for salmon, trout & walleye on Lake Huron in Michigan
Lake Huron's Finest Charter Fishing!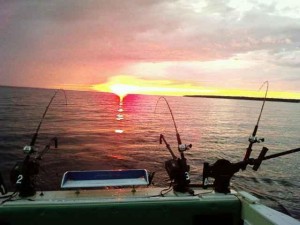 Captain Dave Gumtow and Dave Hija have over 25 years experience on northern Lake Huron and the "Emma J" Charter Fishing Boat is a great lakes "state of the art", long range, battle cruiser awaiting to make your vacation dreams come true.
The crew is well seasoned, be it on the great lakes for salmon or trout, or off the LaGuira Banks of Venezuela for Blue or White Marlin. Whether fishing in Kona, Hawaii, in Punta Cana, Dominican Republic, as far north as Star North Northern Canada, or down to Los Roque or Caraballeda, Venezuela where Dave has lived for 5 years during the winter, he has scored many a grand slam and super slams.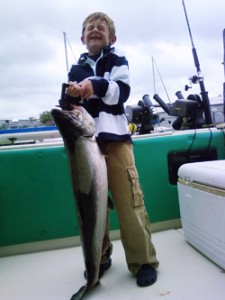 Evening trips off Mackinac island are a sight to behold.  The lights off the Mackinaw bridge and city are just beautiful.  The sunsets are pretty awesome too.
Fishing Charters
But the question is… can we catch fish too?    In the 2009 IWWC Salmon Trout Tournament, we landed a First Place award! For the same tournament, we hit Third Place in 2010 and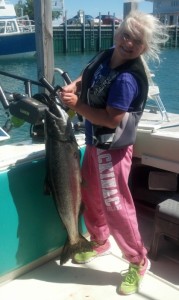 Second Place in 2011. In 2007, we were First Place winners of the Hammond
Bay 1st Annual Great Lakes Tournament. Running Deep Tournament of Mackinaw City, Third Place 2011. He placed first in 2003 in the Bill Fish Shootout in LaGuira Bank.
Dave has also placed in the Rogers City Tournament, earning 3rd place in 2003, 4th in 2004. Too many to list! Always finishing in the top 10 of tournaments entered! The most prestigious and highest pay out at $1000.00 a boat entry fee.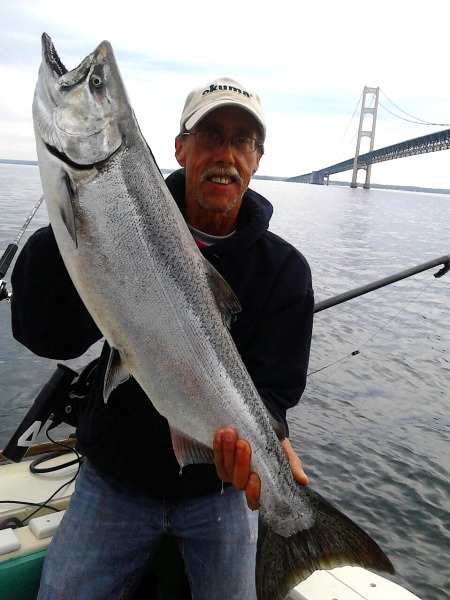 We will customize your trip for your fishing needs.  Families are always welcome aboard the Emma J along with seasoned sport fishermen and women.  Your trip can be planned for a 1/2 day on Mackinac Island and 1/2 day fishing or we offer drop off service for the non fishermen in the group to spend the day touring the island while the fishermen fish!
Whatever your needs we can cover them!  We are one of the few charter boats that will offer a special vacation for your entire family.
Check out our Photo Log Page for our most current catches!
The captain and crew of the Emma J and a few other boats in the area strongly advise you to think about the following questions and considerations before booking a charter:

Are they inspected, and for how many years? Safety is in seasons of experience (two seasons is equal to one year) 4-6 years is good. YOU CAN CHECK THIS by calling the Michigan Department of Natural Resources law enforcement marine division at 989-732-3541 ext 5910. Don't forget: see if they are inspected and, if so, for how many years.
The straits are a high-traffic area for shipping vessels, ferries, tours, and pleasure boaters. With low-light morning trips, low-light return in the evening, trips and the cold water WARM air is a recipe for fog at any time. RADAR IS A MUST, and an app on your phone will not suffice. Ask the charter: Do you have a radar? We say this because we wish you and yours a safe trip as well as a good catch.
DO NOT MIX CHARTERS! For your own safety, comfort, privacy, and convenience, we do not mix charters. Your reservation is yours alone; no need to worry about any unexpected elements during your trip. Rest assured that you can have the experience you envision as we guide you to some great catches.
30 lb Kings! We have a 20 and 30 pound club — See Prizes Below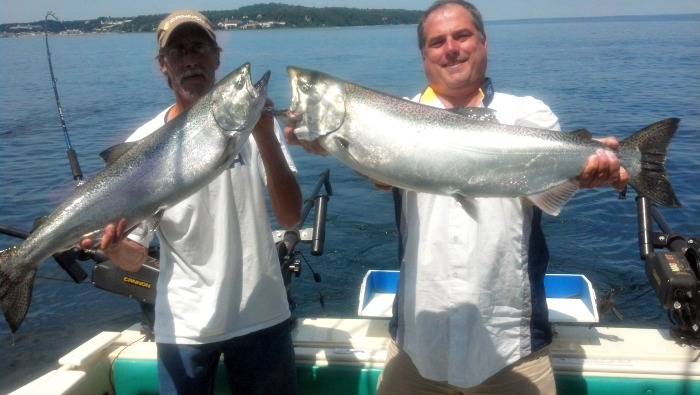 Get your FREE Emma J Charters Merchandise
when you land a 20+ lb king! (different colors available)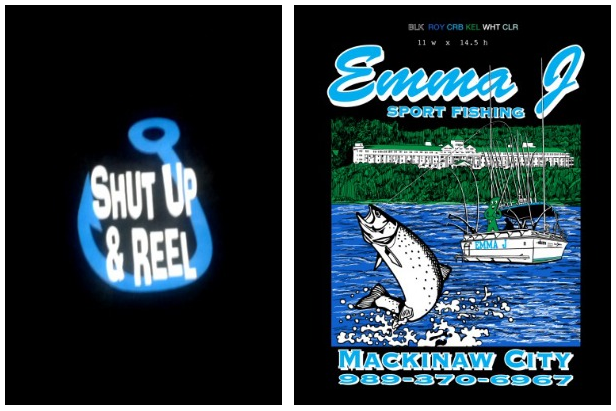 Sponsored as Pro Staff or VIP members by: