The "Emma J" has a trip to fit your budget!
4-hour, 5-hour & 6-hour and full day trips are available.
Charter fish off Mackinac Island Michigan and Mackinaw City with a beautiful view of the bridge and islands.
We run two trips per day! Our AM trip begins at 5AM to 11AM or 6AM to Noon. Our evening trips run from 4PM to 10PM. 4 and 5 hour trips are available on request.
Ask about early booking deals!
We will charter for tournaments on request.
Your Charter Services include…
3 Hummingbird Chart Plotters on board
Hummingbird HD Radar, updated in 2013
3 Hummingbird Fish Finders
GlobalFix EPIRB
Cannon Digitroll Bottom Tracking
Fully Equipped with the best rods and reels Okuma has to offer
Fish Cleaning

(Vacuum packing available)

Fully-Equipped 26′ Sea Ray – Amber Jack.
Cannon Intellitroll, Intellitroll Speed and Temp
MOR Subtroll speed and temp
Full Stand-up Head
Fully Insured
Captain is U.S.C.G Licensed
D.N.R. Inspected
Outriggers
Planer Boards
Waters We Fish…
From Hammond Bay to Mackinaw City/Mackinac Island
We will pick up and drop off in Mackinac Island
Lake Huron
Straits of Mackinaw
Cheboygan, Michigan – We fish out of Cheboygan County Marina (zip code: 49721) for the month of May; then we're in Mackinaw City from June – August. Then we go back to Cheboygan for the big adult king salmon!
Hammond Bay. We will pick up and drop off at Mackinac Island or Bois Blanc Island.
Things to bring on your trip…..
License – Michigan Fishing License (Available for purchase on board for your convenience)
Clothes to suit the weather
Soft-soled shoes
Sunglasses and skin care
Rain gear
Cooler for your catch
Camera (video tapes of outing available)
Food and beverages
Rates
Please call for rates due to fluctuating gas prices.
Emma J Sport Fishing Charters are strong support
ers to…
Some guys claim that they catch huge salmon, but we PRODUCE them! All these fish are 30+ lbs in 2013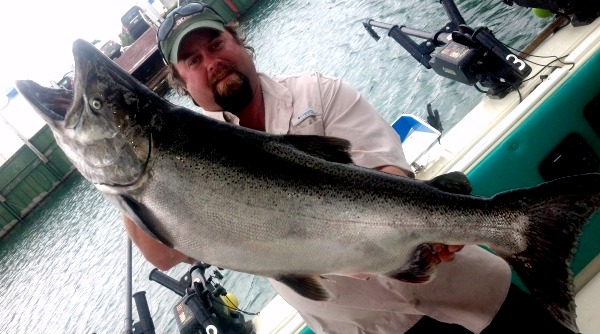 We have a 20 and 30 pound club — Get a gift!